Santorini, with its cavernous luxury hotels nestled into its famous cliffside and striking panoramas of the azure Aegean below, has long been captivating travelers looking to experience its unmatched charm and exceptional beauty. Officially named 'Thira', it sits roughly 120 miles southeast of mainland Greece and is the largest of the Cyclades islands. Its crescent shape is due to a massive volcanic eruption (known as the Minoan eruption) that occurred around 1650 BC, leaving parts of its now-famous caldera submerged underwater.
Its volcano's still active (but currently dormant) and you can swim around hot springs near Nia Kameni island at the center of the caldera. Although a quintessential destination for honeymooners and couples seeking a romantic holiday, there's something for everyone on this magical little island. From its iconic whitewashed villages and blue-topped churches to amazing wineries, restaurants, and world-class hotels, Santorini is the crème de la crème of the Mediterranean...
Katikies, an award-winning boutique hotel in Oia, offers the ultimate experience in luxury, romance, and charm paired with impeccable service and enchanting accommodations. Andronis Arcadia, a posh new Oia hotel, is the epitome of understated sophistication and highly rated for its outstanding hospitality.
Cavotagoo in Imerovigli is the place to be and be seen with its insta-famous infinity pool and stunning panoramic views. Splurge on their Diamond Suite and bask in your private pool overlooking the caldera.
If you want to be immersed in the action of Fira Town (Santorini's capital) Cosmopolitan Suites is a lovely 10-room luxury hotel situated close to all the nightlife and attractions.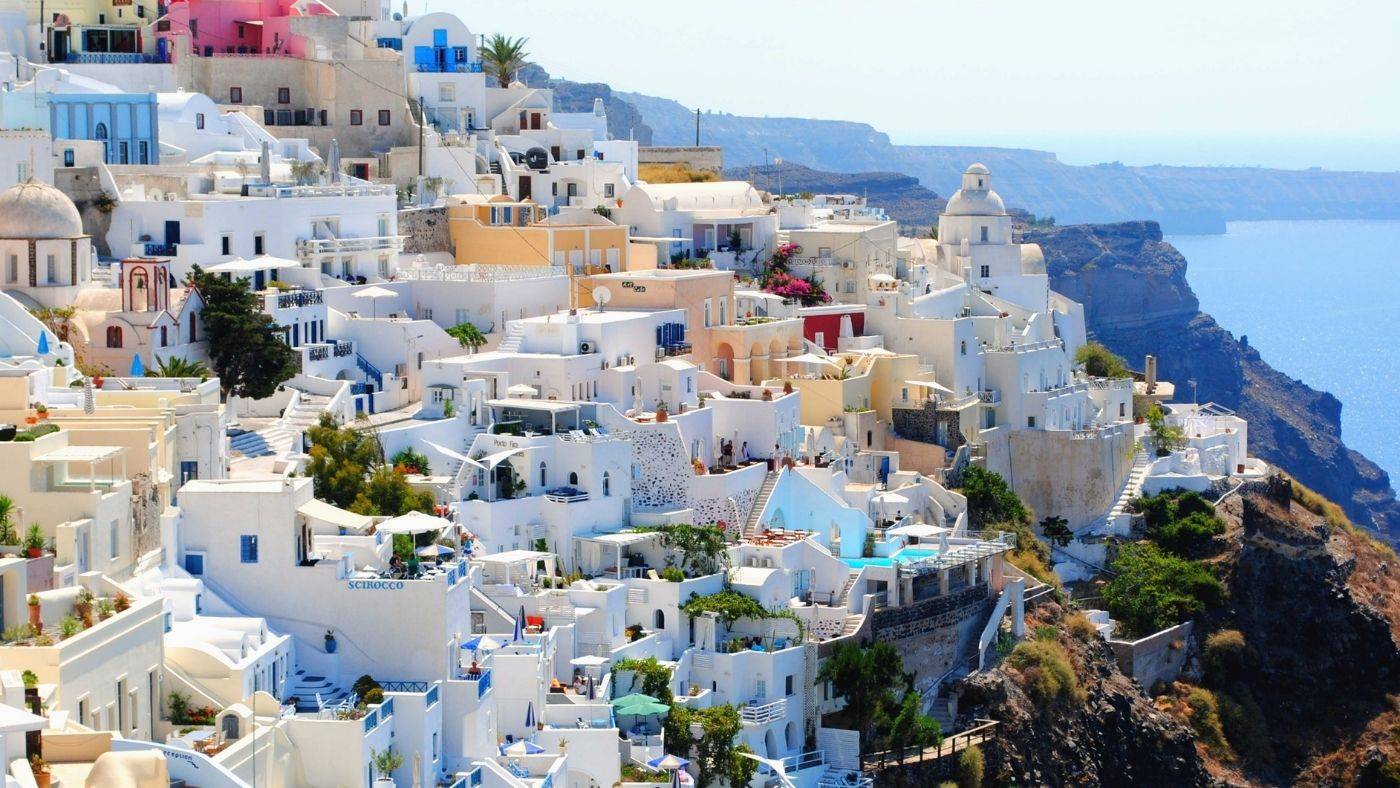 Agaze, an eclectic bistro in Pyrgos, has a homey atmosphere and fresh, local comfort food. It's so good you'll want to return again and again (don't forget to try the tomato fritters).
For traditional fare using hand-picked ingredients sourced daily from Santorini island, check out Aktaion, a third-generation family restaurant in operation since 1922. For an elevated, sophisticated take on Greek cuisine try Alios Ilios, a stunning Oia restaurant with gorgeous sunset views and an exquisite wine list.
The Athenian House, renowned for its unrivaled views and expansive vintage wine list, is great for those seeking a fine-dining experience. For outstanding seafood, To Psaraki comes highly recommended by locals and visitors alike.
Sip champagne at the oyster bar while gazing out over the Aegean Sea at the beautiful Seaside Santorini Restaurant. This seaside location boasts stunning sunsets, beachside dining, and exquisitely prepared food and cocktails. 
PK Cocktail Bar, spanning 3 floors and nestled into the cliffs of Fira, has an extensive craft cocktail menu with breathtaking caldera views. Friendly staff and delicious libations make this place truly unforgettable. If you're in the mood to let your hair down, get wild and crazy at Two Brothers Bar, a crowded and rowdy late-night spot.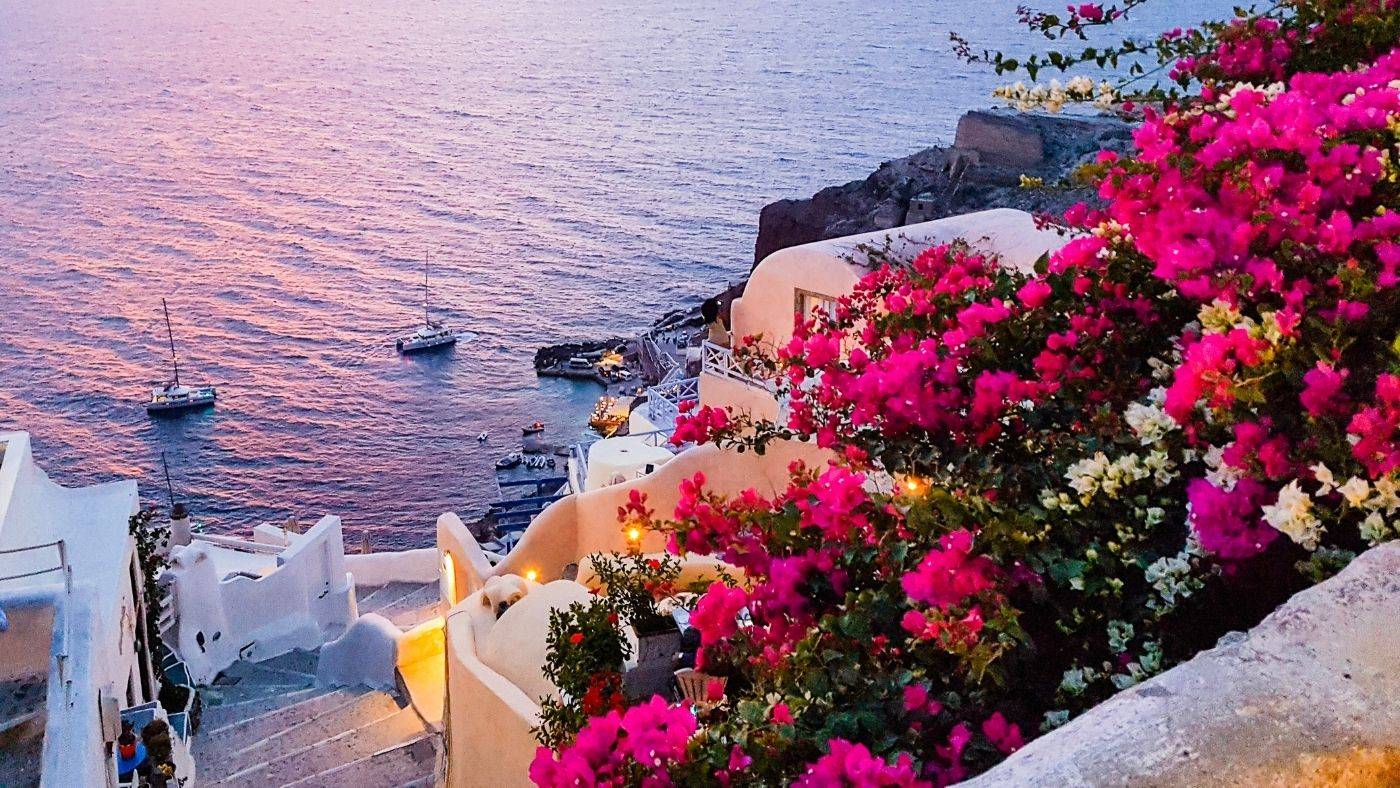 A relaxing (and very enjoyable) way to spend a day is by taking a Catamaran cruise. With plenty of options to choose from including a full or half-day, private or semi-private, daytime or sunset booking, and which parts of the island you want to see, you can completely customize your trip to your liking. Most come with a tasty meal cooked by the skippers and an open bar. You can find a list of the top Catamaran cruises and pricing here. 
Akrotiri, also known as 'Santorini's Pompeii', is the archaeological site of an ancient city ruined by the eruption of the volcano Thera c. 1600 BC. Much of the town and artifacts had been preserved for thousands of years under volcanic ash and weren't discovered until the late 1800s. It's said that Akrotiri could have been the inspiration behind Plato's Lost City of Atlantis, and is definitely worth visiting. 
Book a wine tasting experience at Domaine Sigalas, one of the most acclaimed wineries in all of Greece. Opt for their Wine & Vineyard Lunch where you'll take a tour of the grounds followed by a delectable wine and food pairing.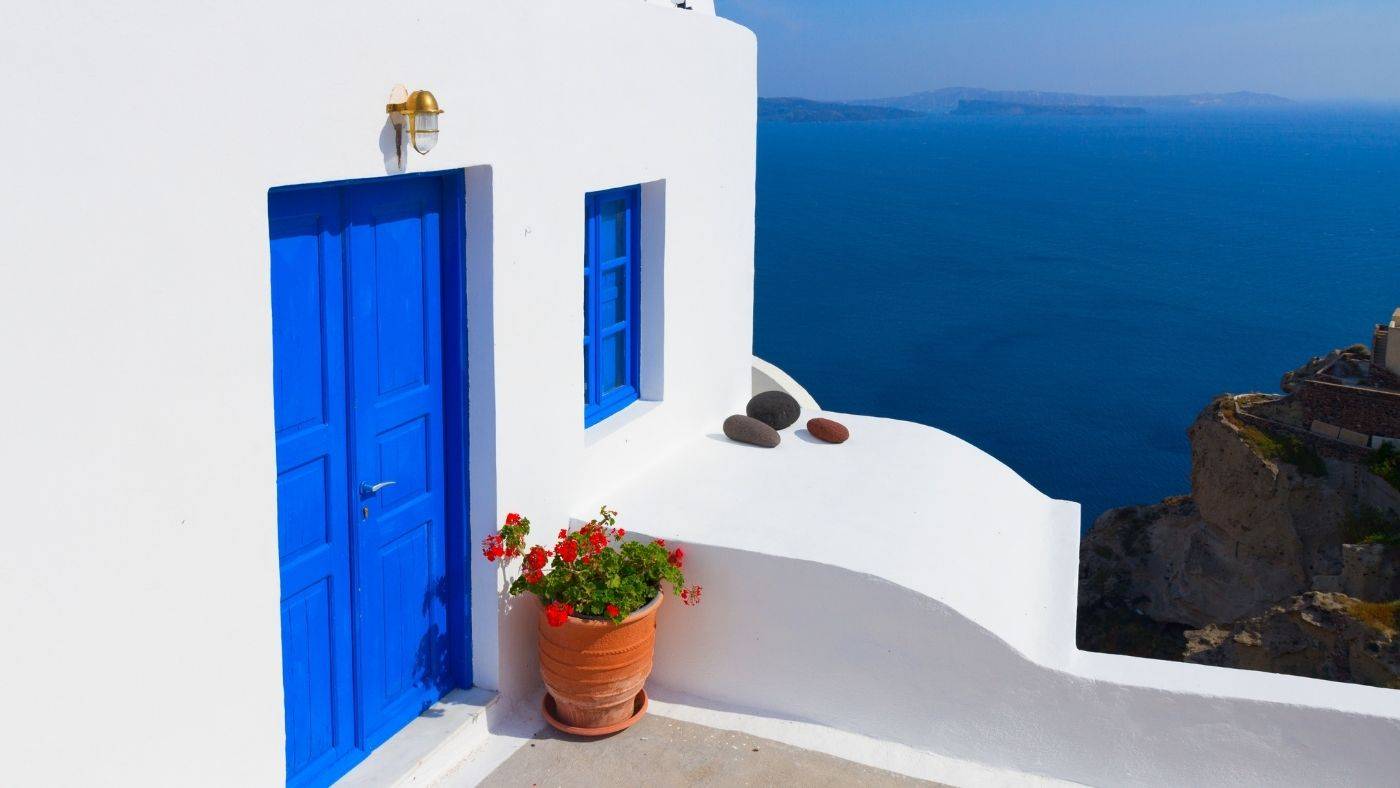 You simply can't visit Santorini without experiencing a spectacular sunset in Oia. For a lovely dinner right on the water with a front-row seat of the horizon, reserve a table at Ammoudi Fish Tavern. If you're able, you can descend the 300 steps from northern Oia down into the old port of Ammoudi Bay. Make sure to wear comfy footwear as the steps can be steep and you'll need to yield to the donkeys! 

Have you been to Santorini? What are your favorite restaurants, things to do, and places to stay? Let us know in the comments!