Our photoshoot for The Soleil Collection (and first trip to the Dominican Republic!) was certainly one for the books...
In a very lucky sequence of events, I had a trip booked down to Cabarete, D.R. to visit a friend when all of a sudden photo-shoot time was rolling as and our new products were nearing completion! 
Trying to be resourceful and also eliminate the process of an entire full-blown photoshoot (since we were only launching a few new pieces) I decided it would make sense to have a half-day shoot on the beach in the Caribbean! Kind of a no-brainer :)
With massive help from two of my close girlfriends (one pretty much took over the role of project manager and the other was translating between English and Spanish so we were all able to communicate!), we pulled off an an amazing shoot with a great team.
I hired a local photographer, makeup artist, and two women with no professional modeling experience and it couldn't have worked out better! The ocean, towering palm trees, and the plethora of tropical colors and scenery served as an ideal backdrop which perfectly encapsulated the vibe of our new pieces.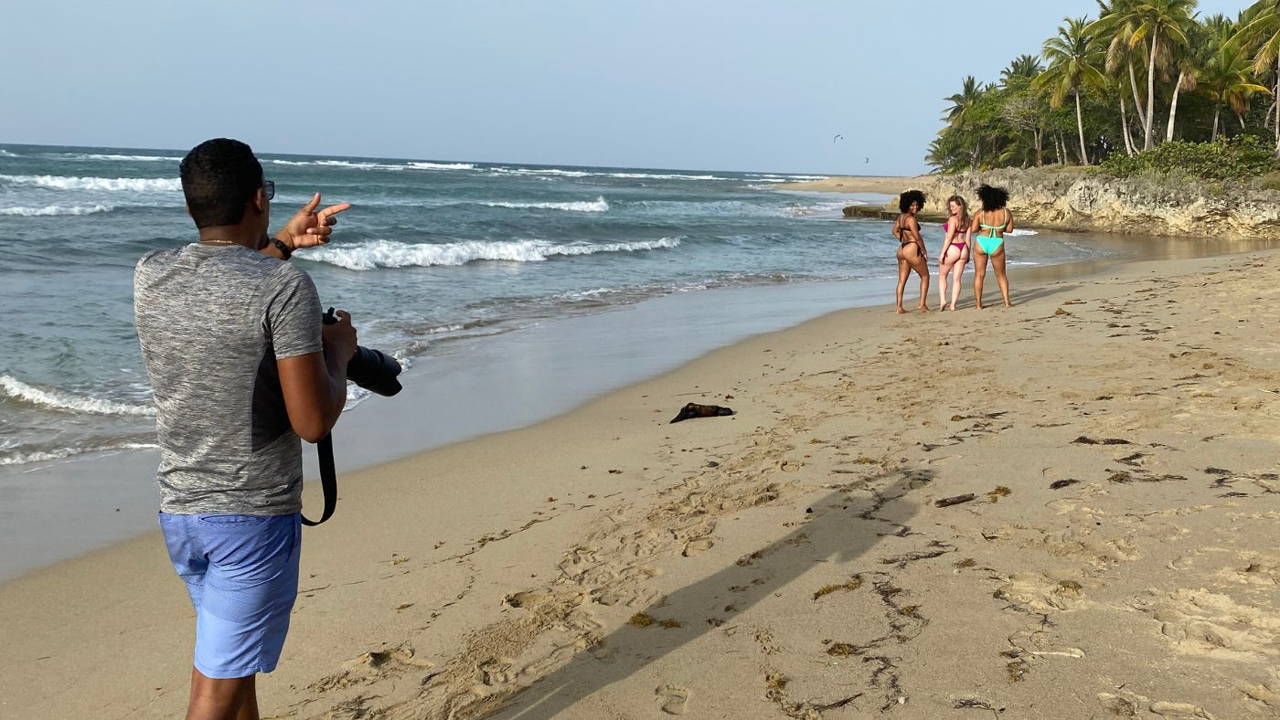 I even jumped in some photos myself!
The rest of the trip was filled with adventures and experiences that you would only be privy to if you knew a local (and luckily we did!). 
The first night we got there my friend Nicole arranged a BBQ for us overlooking the beach and her boyfriend Krys who's an incredible chef cooked tons of delicious food. In fact, he cooked for us the majority of our trip which was such a treat!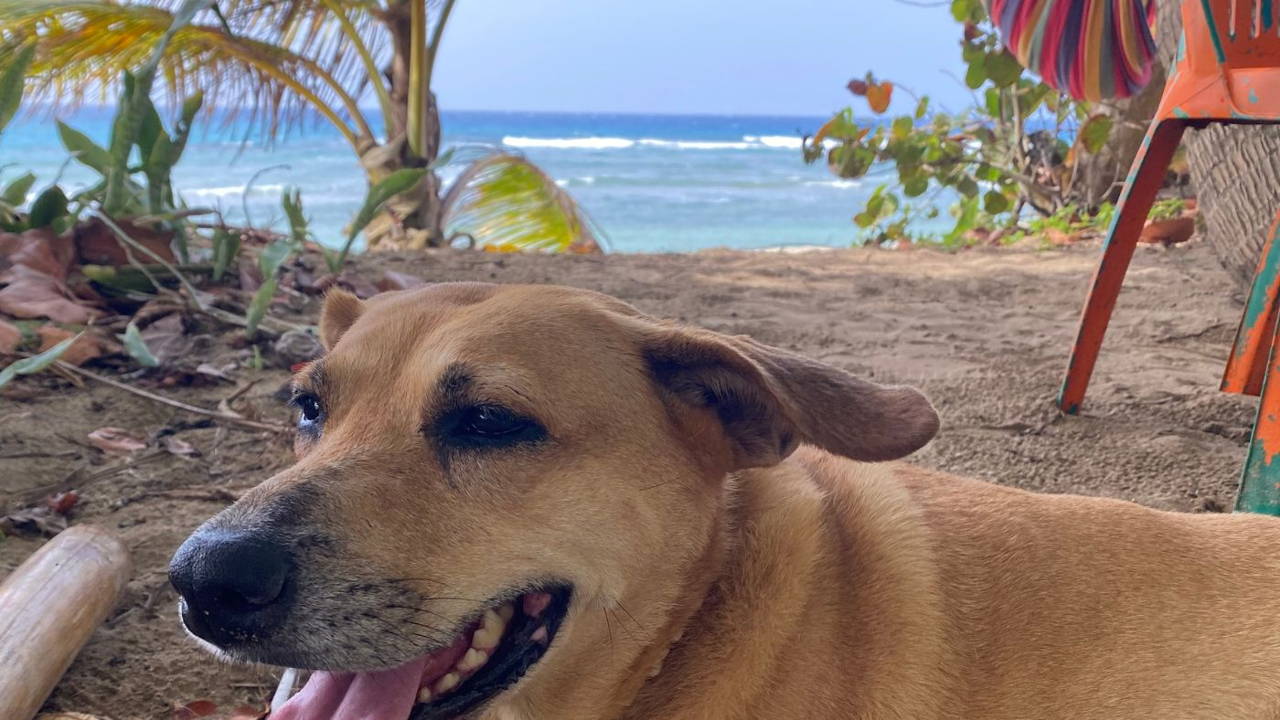 Ro-Ro the dog hanging by my feet trying to score some of Krys's delicious food. 
We stayed at SurfBreak Cabarete which was a no-frills but still quite charming experience! It was reminiscent of a hostile as there were travelers from all over the globe staying and we met some really cool people. 
The B&B hosts were kind and accommodating and there were paid activities like horseback riding, hiking, and surfing that they can organize for you. You can't beat the price for a shared room of only $42 USD per night as long as you're comfy with your roommate (bathroom door was merely a sheer curtain) and the occasional insect sighting! 
One of two pools at Surfbreak Cabarete
It also happened to be National Yoga Day when we were there and we heard about a beautiful studio just down the street -Dharma Shlala Yoga Community. We visited for a seminar and a 90-minute power class. It was an incredible experience practicing amidst panoramic views of the mountains in the distance.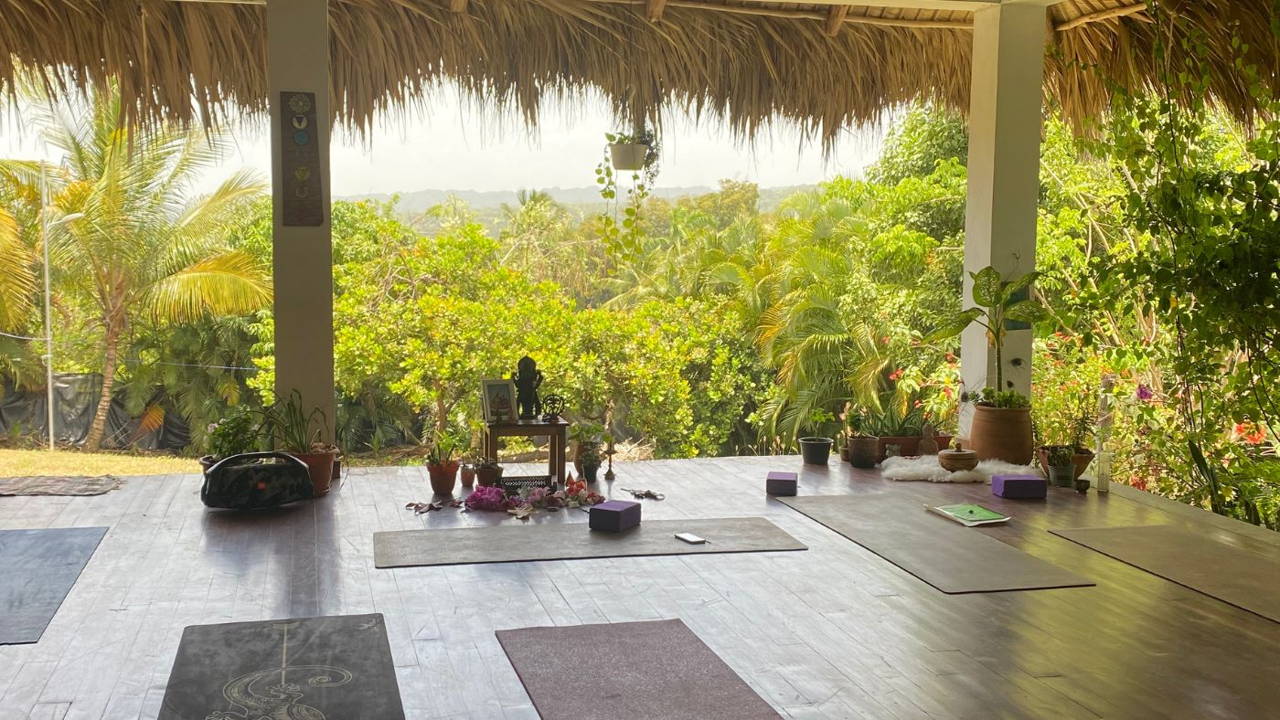 Dharma Shala Yoga Community-photos don't do the view justice!
On our second to last day we at lunch at Kite Beach with a view of what seemed like hundreds of kite surfers zooming around in the ocean.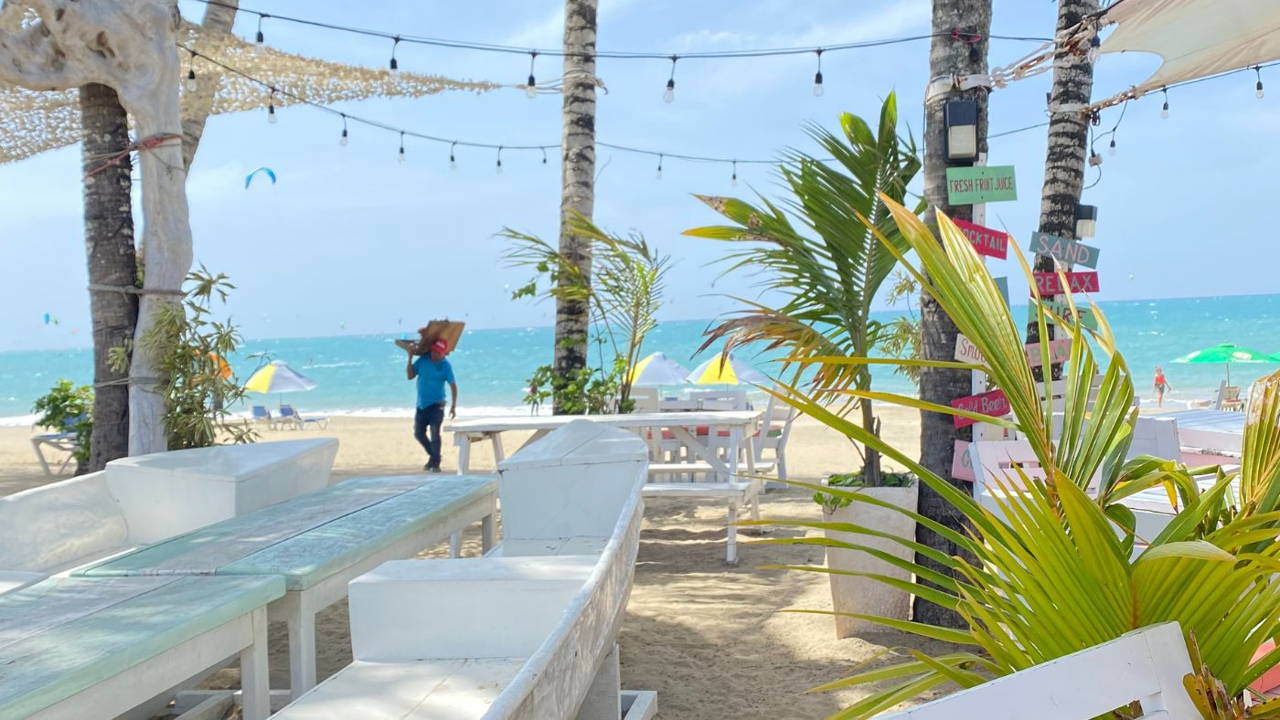 We then headed Sosúa Beach and had a leisurely day sipping piña coladas out of pineapples and swimming! Harumi was sporting a Bambina original swimsuit and looked like a total mermaid beauty.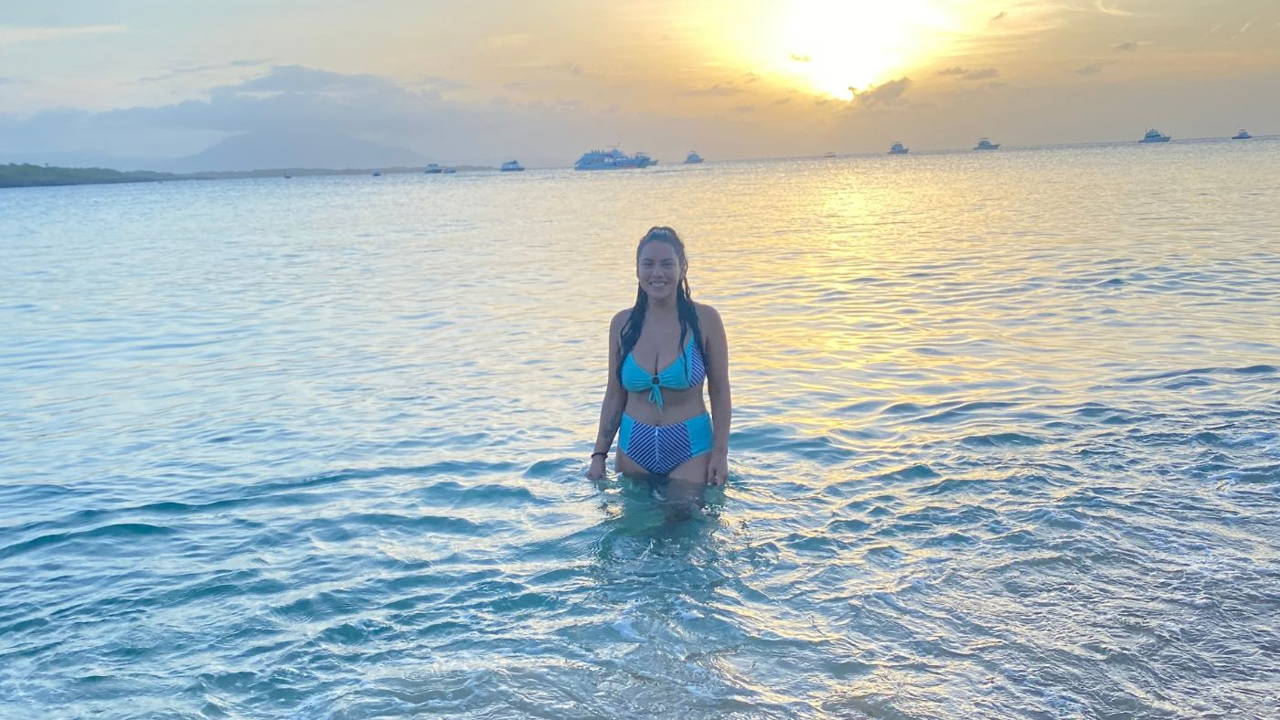 Harumi in a Bambina original bikini at Sosúa Beach
On our last full day Nicole had booked us into a surfing lesson! It took a while to get up on the board, but once I did it was really fun and I'm looking forward to going again sometime. I wore the
Cari One-Piece Swimsuit in Midnight Black
and it held up well even with all my tumbles. (I was wearing a rash guard on top too-maybe a product we could come out with one day in the future!)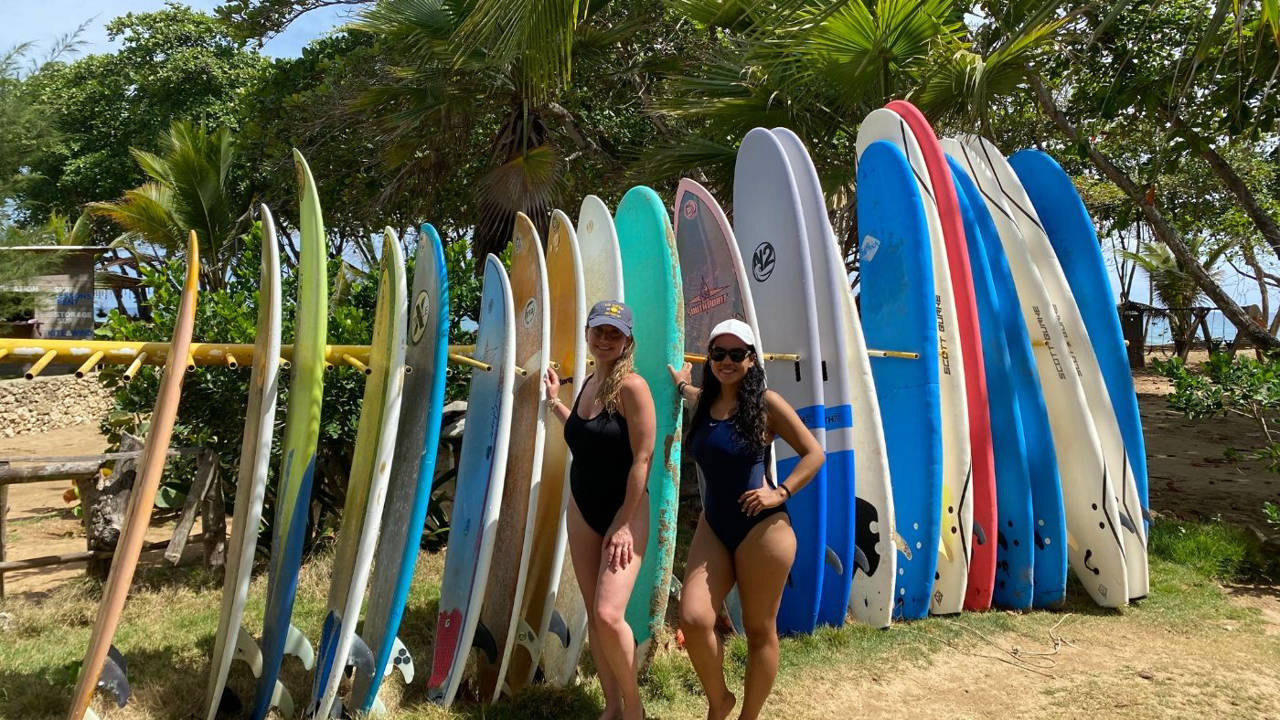 Harumi and I after our surf lesson.
All-in-all it was a wonderful trip with great friends and a successful photoshoot to boot! Can't wait to go back!
XO, 
Diana

For more articles like this and to get exclusive members-only perks, sign up to become a Bambina Insider.