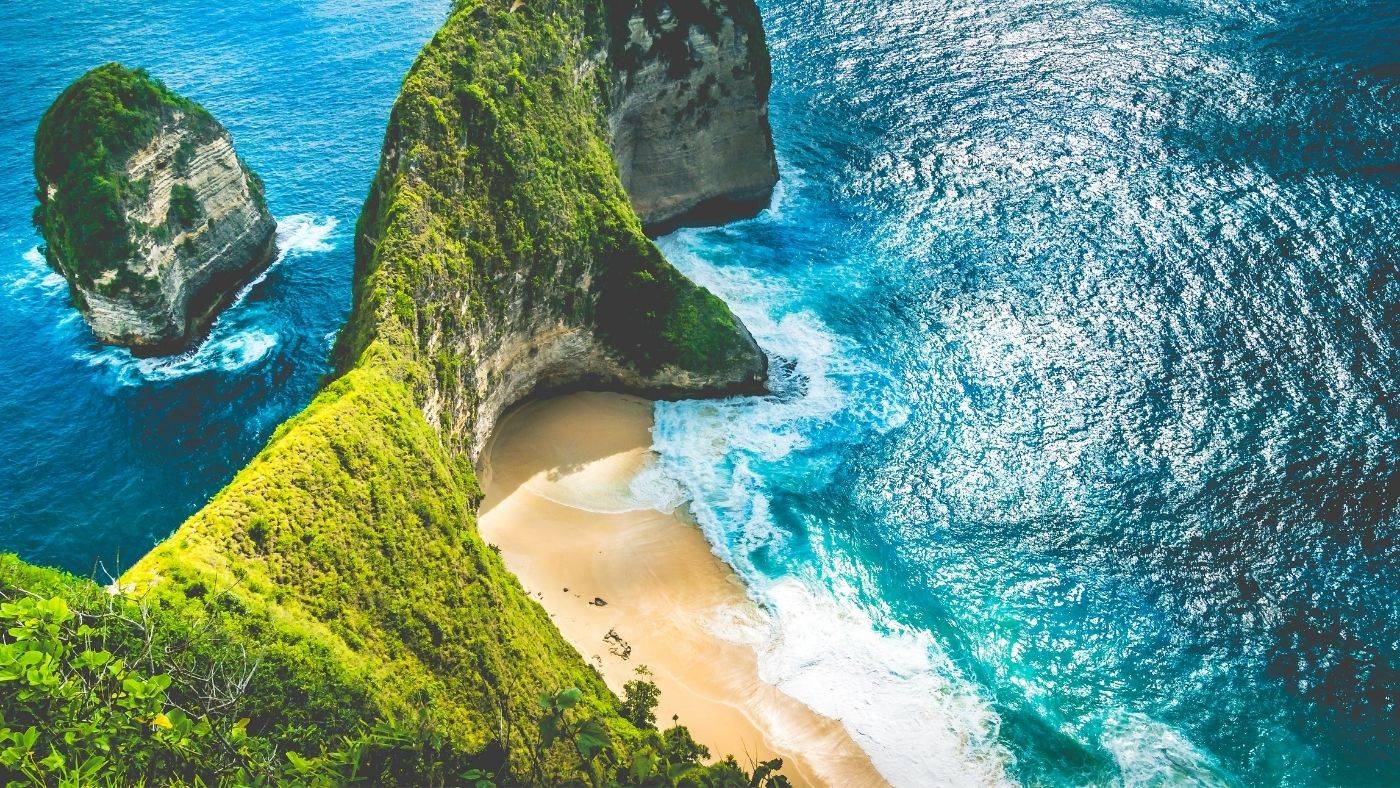 Bali, a province of Indonesia, is understandably one of the most photographed places in the world with its sweeping beaches, verdant rice paddies, cascading waterfalls, and enchanting landscape. Rich with culture and spirituality, its home to over 20,000 Hindu temples and nearly 90% of its population adheres to Balinese Hinduism. It's a popular destination for yoga retreats and wellness getaways and is the perfect place to recharge and disconnect from the chaos of everyday life.
It belongs to the Coral Triangle (also known as "The Amazon of the Ocean") which is a robust area of marine biodiversity and home to over 500 reef-building coral species. The surfing here is unrivaled, there are plenty of outstanding restaurants, and you can even enjoy an hour-long massage for as little as $6! There's also some amazing Airbnbs with private pools and stellar views if you prefer that over a hotel. For an escape that's sure to nourish your body and soul, pack your bags for Bali.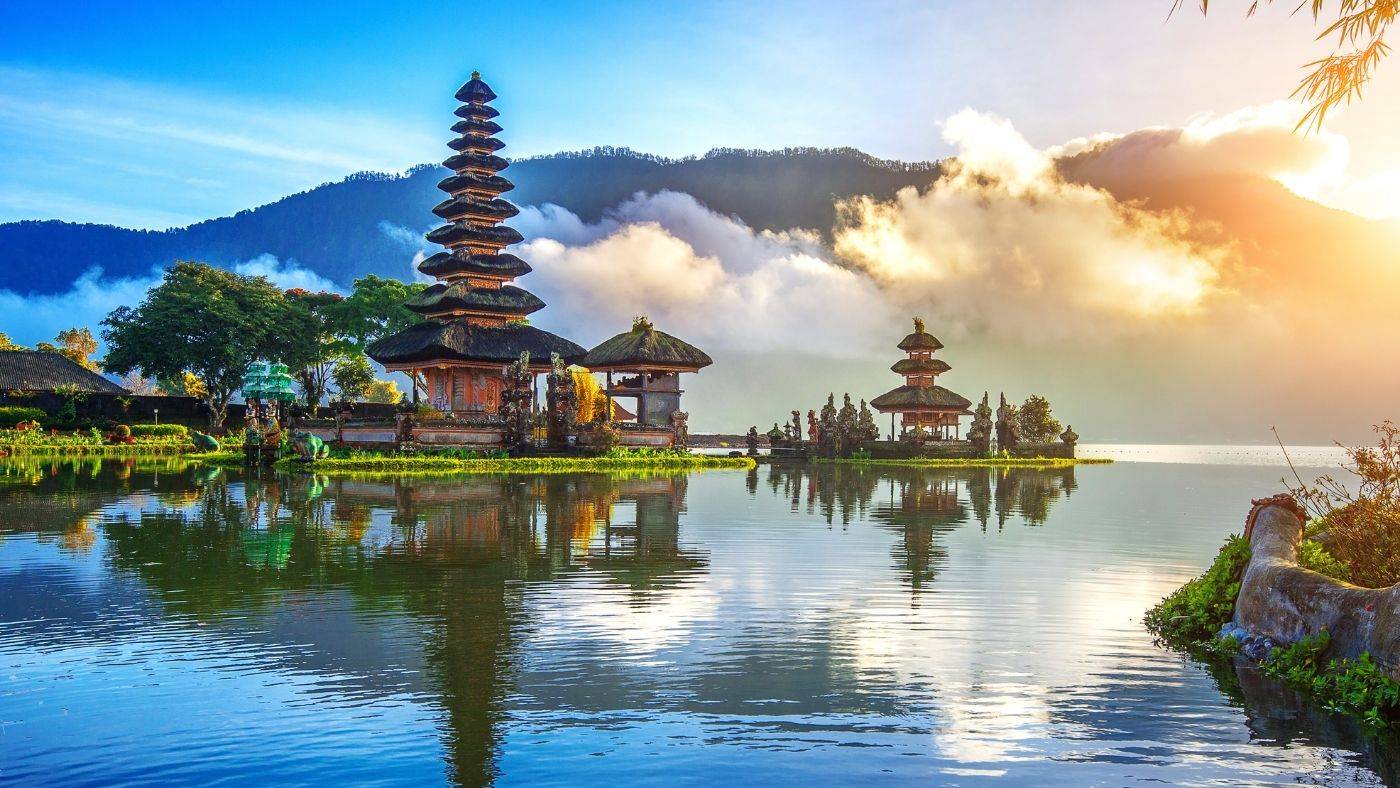 Coming in at #1 on Travel and Leisure's 'World's Best Awards' for top resorts in Indonesia, Capella Ubud is a Bill Bensley masterpiece that's truly one of a kind. Twenty-two imaginatively designed villa "tents" are set in the lush forest each with its own saltwater plunge pool, indoor and outdoor showers, and captivating views. Pricey but worth it, this place is pure magic.
For those seeking a luxury eco-escape, Bambu Indah is a sustainability-focused tropical oasis. You'll feel as if you've been transported to another world as you explore the wonders of the property including its natural swimming holes, Balinese architecture, and captivating landscape.  
Soori Bali, set alongside a black-sand volcanic beach, boasts 48 contemporary villas each with a private infinity pool. Elegantly designed accommodations, sweeping views of the Indian Ocean, and welcoming staff make for a memorable experience.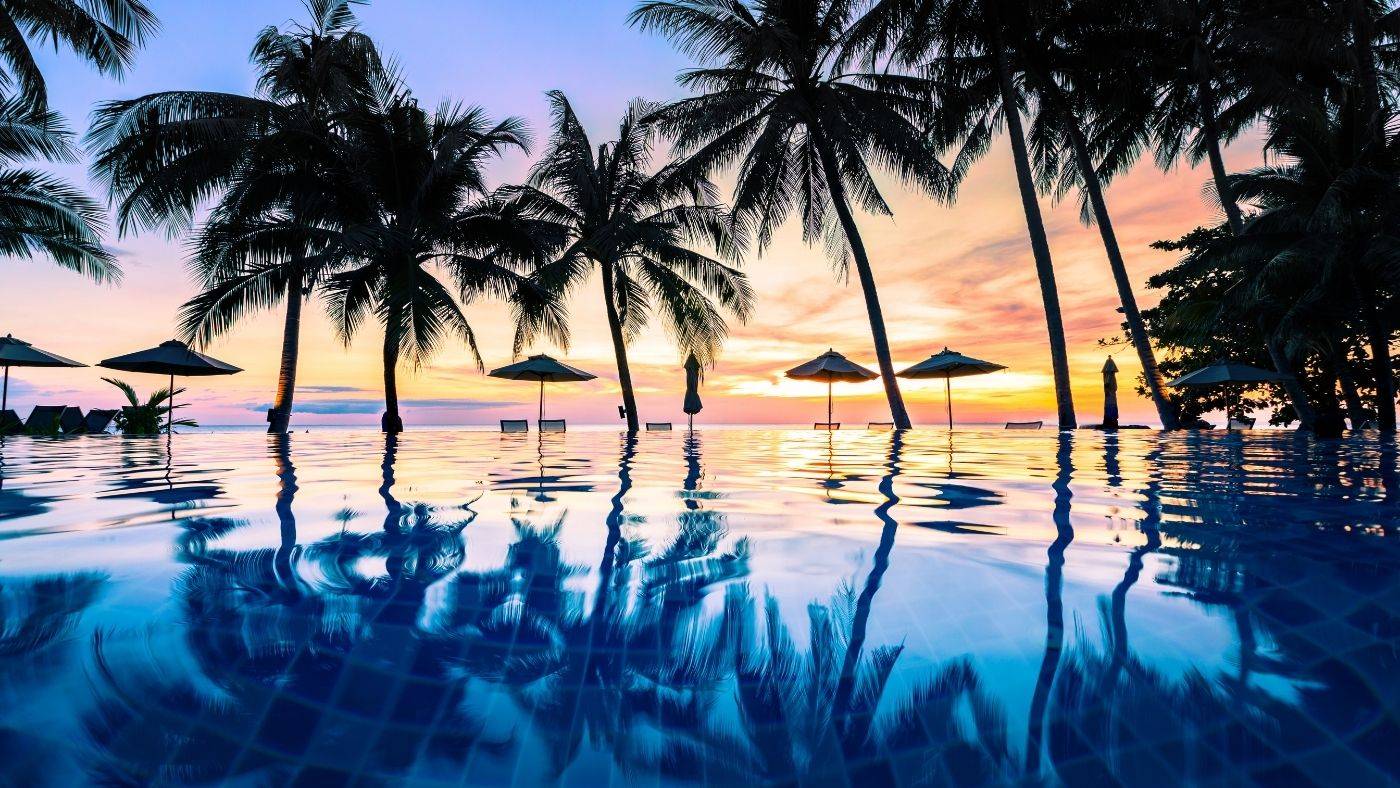 Try the organic coffee at Satu Satu, which has been made by the Sudana family using traditional Balinese methods since the '80s. Veggie-friendly Watercress Cafe serves up some delicious photo-worthy dishes for breakfast, lunch, and dinner. 
Mama San Bali is an Asian-Fusion delight. Try their Sunday Dim-Sum or head up to the second floor to sip on some fancy cocktails made with local ingredients. Grab a seat at the 'food bar' at Cuca and order some tapas while watching the chefs cook up a storm in the open kitchen. 
Stop at Naughty Nuri's Seminyak for one of their famous martinis which Anthony Bourdain dubbed as 'the best outside New York'. It's a dive, but worth the fun!
Make a reservation well in advance for a table at Room 4 Dessert and opt for Chef Goldfarb's provocative tasting menu-you won't be disappointed!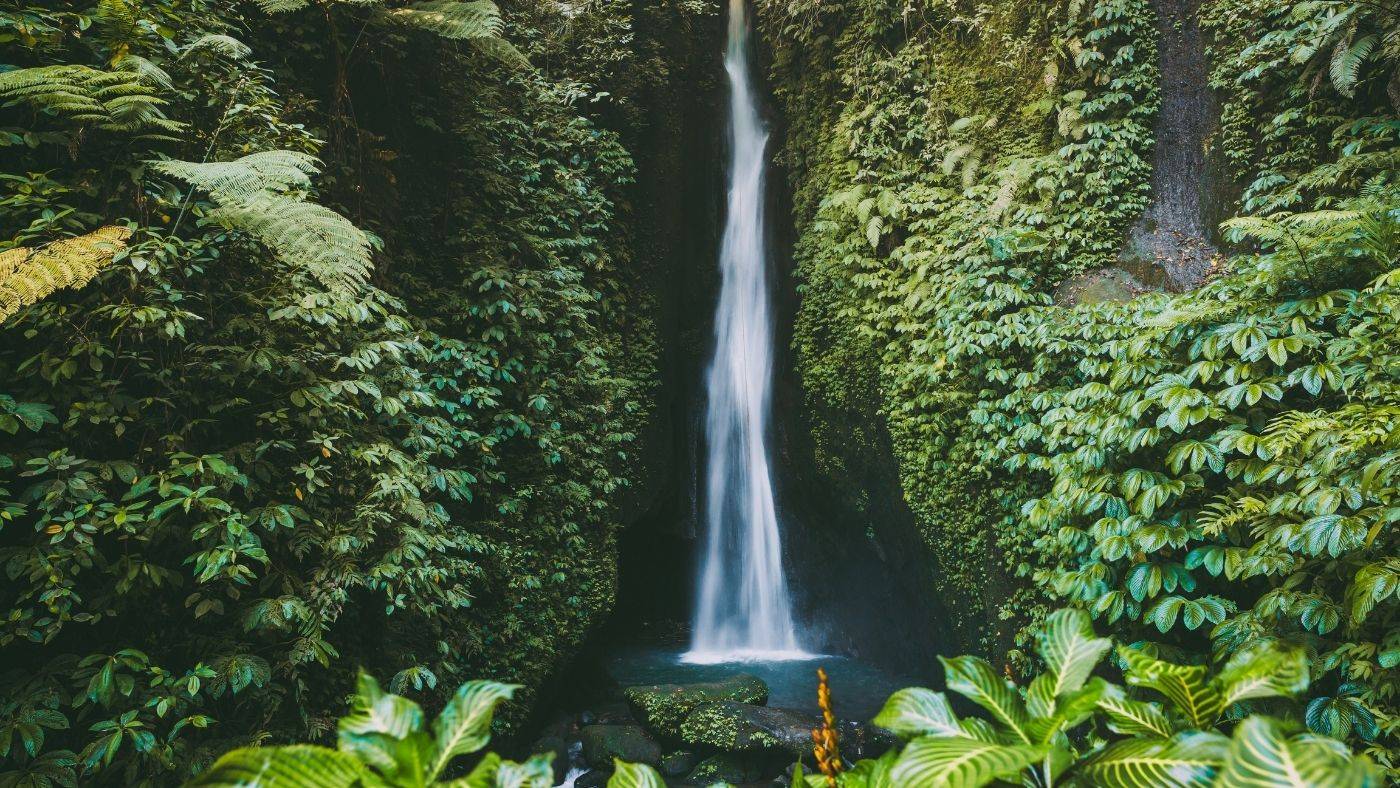 If you're thinking of heading to Bali for a retreat, there's plenty to choose from. Fivelements offers a unique Culinary Retreat in which you'll learn the benefits of a plant-based lifestyle as you study under their team of gourmet chefs. They also offer a Signature Fivelements Retreat and Holistic Purifying Retreat. Decide between a surf or yoga package at Pelan Pelan or go for their 'Get it all Package' where you'll spend your mornings surfing and afternoons practicing yoga and meditating. Bookreatreats.com is also a great resource to find a retreat that suits your fancy.
.
The beauty of Bali's waterfalls is not to be missed. Some to check out are Nungnung, Aling-Aling, Niagara Munduk, or Sekumpul among many others. To fully explore the falls it can be beneficial to get a guide and some spots even require them to be able to get full-access and go swimming. 
To experience some of Bali's rich culture, take a trip to visit a Hindu temple. Tirta Empul Temple is famous for its holy water and purification rituals. Pura Ulun Danu Bratan, the recognizable "floating temple" in Bala lake, has beautiful gardens and is most picturesque at sunset. Pura Besakih is the largest pura (Balinese Hindu Temple) complex in the country-with 23 temples on Mount Agung.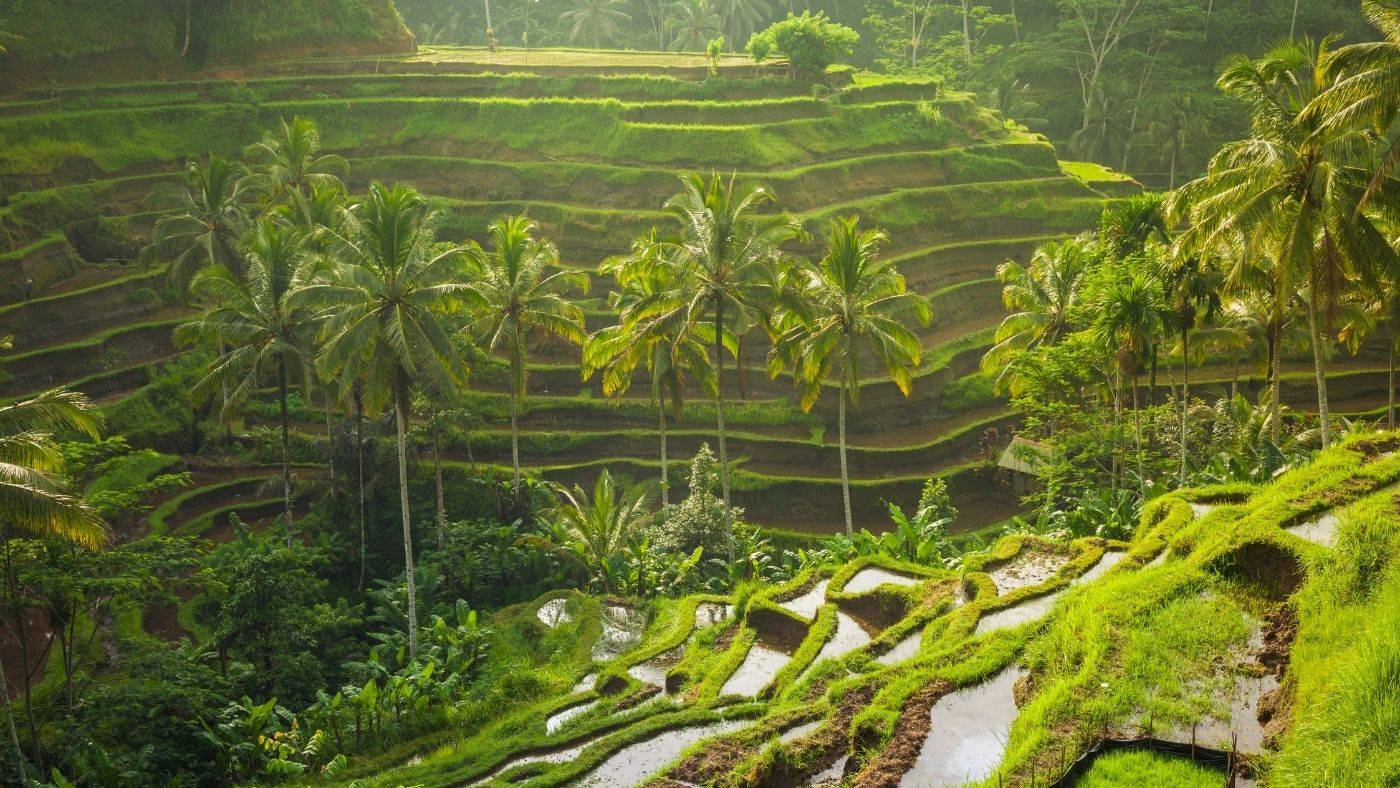 TEGALALANG RICE TERRACE
Tegalalang Rice Terrace, a UNESCO World Heritage Site just north of Ubud, is a verdant valley of rice paddies that depends on an ancient irrigation system and makes for one of Bali's most striking landscapes. You can walk around the fields, enjoy a swing for a small fee, and take plenty of photos of the stunning terraces and the 'Love Bali' signs. 
It's heavily frequented by tourists so it's best to arrive in the morning when it's a little less crowded. You can even go at sunrise for the most spectacular views as the sun comes up over the fields. 

Have you been to Bali? Where are some of your favorite places to stay, eat, and drink? Let us know in the comments!